Summertime is a time for fun in the sun, but for families managing food allergies, summer can also be a time of anxiety. Camping, road trips, and days at the beach all present their own sets of challenges when you have to worry about what foods are safe to eat. Plus, back-to-school will arrive sooner than you think! But don't worry – you've got this! We've got your back with our top three tips for having an awesome summer with food allergies.
Tip #1: Collect your kiddo's epinephrine and any other meds from your kiddo's school nurse.
This is super important so that:
You don't lose that epi. It's pricey!
You can use it for summer activities!
This is also a great time to reassess how your kiddo is doing regarding self-managing that auto-injector. It's important that children transition from the pediatric care model (in which parents are responsible for medical management) to the adult care model (in which the patient is responsible for medical management). As your kiddo wraps up another year at school, consider things like self-carrying epi, ordering at restaurants, and other things you may do for your kiddo and set age-appropriate goals for when your kiddo will be in charge of those things.
Tip #2: Review the summer activities in which your kiddo will be participating and have very clear food allergy and anaphylaxis action plans.
Don't assume that camps are off-limits due to a lack of food allergy preparedness. More and more camps are equipping themselves to prevent and manage medical emergencies. Likewise, don't assume that just because another kiddo with food allergy attends a camp, that it's safe. Always do your due diligence, and only send your kiddo if the camp meets all your expectations.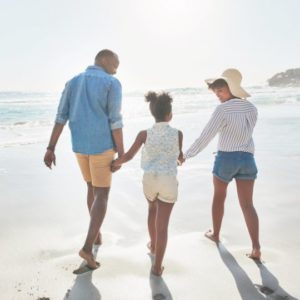 Tip #3: Get a jump-start on the upcoming school year!
This is especially important if your kiddo will be going to a new school. Stop by the school before the end of the current school year. You'll want to be sure you have all necessary forms and meds well prior to day one of the new school year.
Bonus Tip: Have your kiddo's annual allergy appointment in July. This will allow your allergist to review any new treatments without you feeling the rush of getting youor kiddo back to class or to after-school activities. Also, this is the time to get school forms completed and med updated.
Don't miss this episode of the podcast in which Pam and Dr. Hoyt discuss these tips and so much more!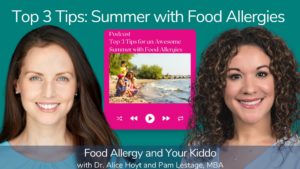 ---
Thanks for reading this post "Top 3 Tips for an Awesome Summer with Food Allergies." Do you have any questions about food allergies? Reach out to me! And be sure to check out my other blog posts and podcast episodes about all things food allergy. Thanks for reading!
– Dr. Hoyt
P.S. Food allergy testing can be super confusing, so I've created this awesome ebook to clarify the facts from the fiction! Get your copy today!
---
Are you in need of an allergist in your area? Check out these allergist finder tools:
AAAAI Allergist Finder: https://allergist.aaaai.org/find/
ACAAI Allergist Finder: https://acaai.org/locate-an-allergist
---
Do you have food allergy questions? Have them answered by Dr. Alice Hoyt, Pam, and guests on the podcast!
Submit your questions HERE!
---
A note from Dr. Hoyt
I have talked about a non-profit…
Pam and I volunteer with the non-profit The Teal Schoolhouse. Its primary program is Code Ana. Code Ana equips schools for medical emergencies like anaphylaxis.
Code Ana's Online Epinephrine Training Program helps support that goal. Through this program, you will educate yourself while you support this important mission!
A medical emergency response plan is important for everyone at any school. Code Ana's program Med-E Ready is a comprehensive approach to school-focused medical preparedness. This program guides schools through the process of creating a medical emergency response plan. A response team is also developed! This is one of the most important components of a school's food allergy policy!
Does your kiddo's school have Code Ana?
---
You've just read Dr. Hoyt's post "Top 3 Tips for an Awesome Summer with Food Allergies." Remember, she's an allergist, but she isn't your allergist, so talk with your allergist about what you've just learned!