Have you ever wondered if Ring Pops are gluten-free? Or maybe you've wondered if Saf-T-Pops are indeed safe for your kiddo with peanut allergy? When it comes to determining whether a food is safe for someone with a food allergy, food intolerance, or specific diet, there are three steps to success.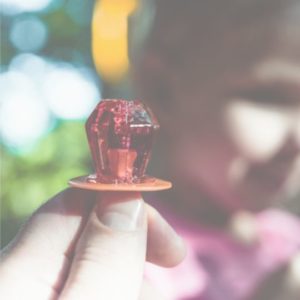 Step 1. Know what you need to avoid.
First, you need to know what ingredients or foods you need to avoid. For example, if you have Celiac or non-Celiac gluten sensitivity, then you will need to avoid gluten. Gluten can be found in wheat, rye, barley, and some other grains.
Or, if you have a peanut allergy, you will want to avoid anything with peanuts or peanut products in it. Likewise, if you have lactose intolerance, you will want to avoid many milk-containing. This seems simple, but given the multiple names of some ingredients, knowing how to avoid certain ingredients can be challenging. Check out this great resource from FARE entitled Tips for Avoiding Your Allergen.
In some cases, you may not know what you need to avoid. Many people are concerned they have food allergies. In fact, nearly 1 in 5 adults believe they have at least one "food allergy." While half of those adults meet criteria for having a food allergy, that means that the other half – so a total of nearly 10% of adults in the US – have some sort of adverse reaction or sensitivity to one or more foods! If this is you: it's tempting to go online and order some sort of test that claims to help you figure out what's going on, but I have a better suggestion that I'll write about in Step #3 (SPOILER ALERT! See an allergist!)
Ultimately, you probably don't need to know if Ring Pops are gluten-free unless you are trying to avoid gluten. That said, the first step in being able to avoid any food is knowing what food it is that you need to avoid!
Step 2. Read the "Nutrition Facts" label to look for your problem ingredients.
Second, read the label for the ingredients. All food labels in the United States are required by law to list the products ingredients. This list is found in the "Nutrition Facts" label, underneath the table. Allergens that currently need to be listed include:
Peanut
Tree nuts
Egg
Cow's milk
Wheat
Soy
Fish
Crustacean shellfish
Per US federal regulations:
"The name of the food source of a major food allergen must appear:
In parentheses following the name of the ingredient.
Examples: "lecithin (soy)," "flour (wheat)," and "whey (milk)"
— OR —
Immediately after or next to the list of ingredients in a "contains" statement.
Example: "Contains wheat, milk, and soy."
While the FDA regulates the claim "gluten-free," manufacturers are not currently required to explicitly list "gluten" in the ingredients list. This means that you cannot assume that a food without "gluten" listed as an ingredient or without a "contains gluten" statement is safe. (So just because gluten is not listed on the Ring Pop's Nutrition Facts label, don't assume that alone means it is gluten-free!).
Are you avoiding sesame seed-containing products? Your shopping experience should get a little easier come January 1, 2023. This is because that is when the FASTER Act takes effect and sesame seed becomes an FDA-specified allergen. Sesame seed will then need follow the same labeling requirements as other allergens. More on FASTER in this FDA video…
Other ingredients of which the FDA is aware is color and food additives. For example, FD&C Yellow No. 5 does need to be explicitly listed as an ingredient if it is present in a food. So even though Ring Pops are gluten-free, most (if not all) have dyes, and you will see these FDA-certified color additives listed on ingredients lists.
Step 3. Ask for help!
Finally, when you have any questions, don't hesitate to ask for help.
If you don't really know what food your need to avoid, then you need to see an allergist! An allergist will help you determine what foods are triggering an immune response and what foods are non-immune responses. From there, the doctor will be able to guide further evaluation and make recommendations for what foods you need to avoid. The doctor can also provide an action plan for accidental ingestions. This is especially important in kiddos with IgE-mediated food allergies and FPIES.
And it you are not sure whether an ingredient is found in a particular product or have questions about the sources of ingredients, contact the manufacturer. Most companies have customer service lines and email addresses that you can use to get in touch with someone who can answer your questions. So if you are wanting to learn more information about Ring Pops and whether they are indeed gluten-free, ask the manufacturer about their ingredients! This type of direct questioning, in conjunction with Steps 1 and 2, can be helpful!
You've got this!
With these three steps, you can be sure that you are making safe choices for yourself or your child's next snack! And remember, just because a food is safe for one person with a food allergy doesn't mean it's safe for everyone, so if you are serving food to a child who is not your own, check with their parents on what is safe for them. And always check the labels and ingredients before you eat or serve a food, even if it is not a new food – ingredients can change! That means that even though Ring Pops are typically gluten-free, don't take my word for it – take these three steps to make sure those Ring Pops are gluten-free!
Happy snacking!
Thanks for reading this post "Are Ring Pops Gluten-Free? How to Determine if Snacks are Safe!" Do you have any questions about food allergies or gluten-free eating? Reach out to me! And be sure to check out my other blog posts and podcast episodes about food allergies and gluten-free living. Thanks for reading!
– Dr. Hoyt
Also…
Are you in need of an allergist in your area? Check out these allergist finder tools:
AAAAI Allergist Finder: https://allergist.aaaai.org/find/
ACAAI Allergist Finder: https://acaai.org/locate-an-allergist

Did you know if Ring Pops were gluten-free? Have other food allergy questions? Have them answered by Dr. Alice Hoyt, Pam, and guests on the podcast!
Submit your questions HERE!
A note from Dr. Hoyt
I have talked about a non-profit…
Pam and I volunteer with the non-profit The Teal Schoolhouse. Its primary program is Code Ana. Code Ana equips schools for medical emergencies like anaphylaxis.
Code Ana's Online Epinephrine Training Program helps support that goal. Through this program, you will educate yourself while you support this important mission!
A medical emergency response plan is important for everyone at any school. Code Ana's program Med-E Ready is a comprehensive approach to school-focused medical preparedness. This program guides schools through the process of creating a medical emergency response plan. A response team is also developed! This is one of the most important components of a school's food allergy policy!
Does your kiddo's school have Code Ana?
---
You've just read Dr. Hoyt's post "Are Ring Pops Gluten-Free? How to Determine if Snacks are Safe!" Remember, she's an allergist, but she isn't your allergist, so talk with your allergist about what you've just learned!