Not all food allergy disorders involve allergic antibodies!
If you have a child with a food allergy, you've likely heard of IgE-mediated food allergies. But there's another type of food allergy that is less well-known – FPIES. Although FPIES is not an IgE-mediated food allergy, it can still be a severe and potentially life-threatening condition.
Dr. Anna Nowak-Wegrzyn, Professor of Pediatrics in the Department of Pediatrics at NYU Grossman School of Medicine, and the Director of its Division of Pediatric Allergy and Immunology, is the world authority on FPIES. She has authored over 200 peer-reviewed articles and presented at dozens of academic conferences. Simply stated: she's brilliant, and she was kind enough to join Dr. Hoyt on the podcast!
A bit of background on the food allergy FPIES
So what is FPIES? FPIES is food protein-induced enterocolitis syndrome. When it occurs, it usually presents within the first year of life. It can be triggered by any food, but it occurs more often with cow's milk, soy, rice, and oats. The reaction is not IgE-mediated but rather is a cell-mediated immune response. This response leads to inflammation of the gastrointestinal tract.
Symptoms of "acute" FPIES reaction can include vomiting, diarrhea, dehydration, low blood pressure, and even shock. These acute symptoms occur within a few hours. Some patients have "chronic" FPIES, which presents more often in the first week to months of life and can cause severe failure-to-thrive associated with the gastrointestinal symptoms.
Unlike IgE-mediated food allergy, FPIES typically resolves!
Learn all about FPIES and how it's different from other food allergy disorders
On this episode of the podcast, Dr. Hoyt interviews Dr. Nowak-Wegrzyn. Don't miss learning from this amazing FPIES food allergy expert!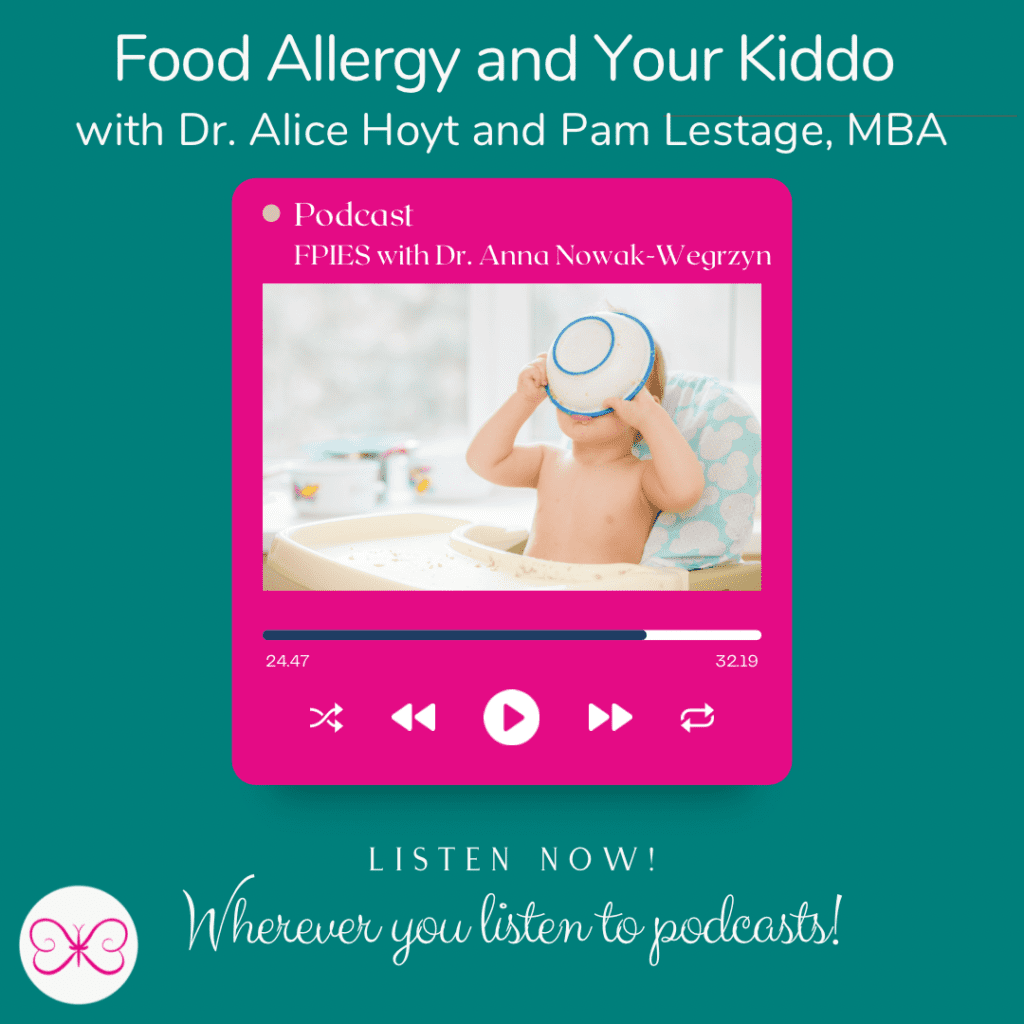 Also…
Are you in need of an allergist in your area? Check out these allergist finder tools:
AAAAI Allergist Finder: https://allergist.aaaai.org/find/
ACAAI Allergist Finder: https://acaai.org/locate-an-allergist

Have your food allergy questions answered by Dr. Alice Hoyt, Pam, and guests on the podcast!
Submit your question HERE!
A note from Dr. Hoyt
I have talked about a non-profit…
Pam and I volunteer with the non-profit The Teal Schoolhouse. Its primary program is Code Ana. Code Ana equips schools for medical emergencies like anaphylaxis.
Code Ana's Online Epinephrine Training Program helps support that goal. Through this program, you will educate yourself while you support this important mission!
A medical emergency response plan is important for everyone at any school. Code Ana's program Med-E Ready is a comprehensive approach to school-focused medical preparedness. This program guides schools through the process of creating a medical emergency response plan. A response team is also developed! This is one of the most important components of a school's food allergy policy!
Does your kiddo's school have Code Ana?