The flowers are blooming, the sun is shining, and the trees are green. Yes, warmer weather has finally arrived! But for many people, this time of year also brings sneezing, congestion, and itchy eyes. That's because seasonal allergies have kicked in. If you're one of the millions of Americans who suffer from seasonal allergies, don't worry – you're not alone. And I've got some great news for you: there are treatments that can help make your life a lot more comfortable! Keep reading to learn more about Dr. Hoyt's own seasonal allergies treatment.
What are seasonal allergies?
First, let's start with a little bit of background. Seasonal allergies, also called allergic rhinitis or hay fever, are caused by pollen in the air. Pollen is a tiny particle that is released by trees, grasses, and weeds. When it enters your nose, it can trigger an allergic reaction in your nose! Symptoms include sneezing, congestion, runny nose, and itchy eyes. These symptoms develop because the allergy cells in your nose are being activated. Activated allergy cells release chemicals, like histamine, which cause those itchy-drippy-sneezy effects!
Seasonal Allergies Treatment
If you've ever tried to treat these symptoms, you have probably visited the allergy aisle. Yikes! So. Many. Options. You probably stand there thinking and staring:
What product or products do I really need?
How are all these different from each other?
These are pricey… which should I really get?
It's great that there are options, but when you don't know what you need, it's hard to make informed decisions.
Tune in to this episode of Dr. Hoyt's podcast where she shares her regimen to successfully treat seasonal allergies. Of course, this information is education and should not be considered medical advice. Take what you learn from this quick episode and ask your doctor what regimen may work for you!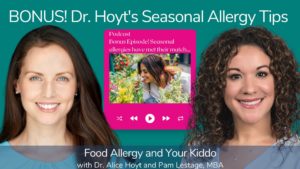 ---
Thanks for reading this post "Seasonal allergies have met their match with Dr. Hoyt's regimen!" Do you have any questions about food allergies? Reach out to me! And be sure to check out my other blog posts and podcast episodes about all things food allergy. Thanks for reading!
– Dr. Hoyt
P.S. Food allergy testing can be super confusing, so I've created this awesome ebook to clarify the facts from the fiction! Get your copy today!
---
Are you in need of an allergist in your area? Check out these allergist finder tools:
AAAAI Allergist Finder: https://allergist.aaaai.org/find/
ACAAI Allergist Finder: https://acaai.org/locate-an-allergist
---
Do you have food allergy questions? Have them answered by Dr. Alice Hoyt, Pam, and guests on the podcast!
Submit your questions HERE!
---
A note from Dr. Hoyt
I have talked about a non-profit…
Pam and I volunteer with the non-profit The Teal Schoolhouse. Its primary program is Code Ana. Code Ana equips schools for medical emergencies like anaphylaxis.
Code Ana's Online Epinephrine Training Program helps support that goal. Through this program, you will educate yourself while you support this important mission!
A medical emergency response plan is important for everyone at any school. Code Ana's program Med-E Ready is a comprehensive approach to school-focused medical preparedness. This program guides schools through the process of creating a medical emergency response plan. A response team is also developed! This is one of the most important components of a school's food allergy policy!
Does your kiddo's school have Code Ana?
---
You've just read Dr. Hoyt's post "Seasonal allergies have met their match with Dr. Hoyt's regimen!" Remember, she's an allergist, but she isn't your allergist, so talk with your allergist about what you've just learned!