Have you ever attended a party and wished the food had been labeled for allergens? Food allergen labeling is super helpful!
Food allergen labeling makes meals taste better. This is because guests with food allergies and other special diet needs feel more confident that the food is safe to enjoy. Labeling foods for allergens can show that the chef – and host/hostess – has taken the time not just to label safe foods but, in a broader sense, is thinking about food allergy.
Food Allergen Labeling: Create Your Own Labels!
In this episode of the podcast, Pam and I discuss food allergen labeling. In a nutshell (pun intended LOL), food allergen labels should have four main characteristics:
Accurate
Readable
Durable
Cute!
Don't miss this episode, and click here to access the Food Allergy Toolbox, which includes the Food Allergen Labeling Guide!
Understand the US' Nutrition Facts Label
Plus, don't miss this fantastic guide to understanding the Nutrition Facts label on foods in the US. Find it on our Etsy Shop, and use this discount code YAYSAVE20 to save 20%!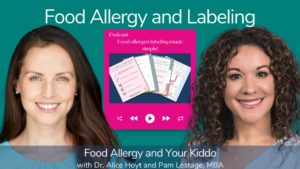 What's your question?
Do you have a question about this topic? Would you like your question answered on the infoblogcast? Submit it here!
Additional Show Notes
I have talked about a non-profit…
The non-profit is The Teal Schoolhouse, whose primary program is Code Ana. Code Ana equips schools for medical emergencies like anaphylaxis. Our primary program is the Code Ana School Program, which is a comprehensive approach to school-focused medical preparedness. This program guides schools through the process of creating a medical emergency response plan. This is one of the most important components of a school's food allergy policy!
A medical emergency response plan is important for all kiddos and for adults at any school! Our primary goal is to share the School Program, and Code Ana's Online Epinephrine Training Program helps support that goal. Through this program, you will educate yourself while you support this important mission! (BTW although Pam and I serve in leadership roles of Code Ana and The Teal Schoolhouse, our time/effort/work is completely voluntary).
So… does your kiddo's school have Code Ana?