Trick or treat can be less spooky for food allergy families
If you have a kiddo with food allergy, you know how certain times of the year may cause some angst. You may be concerned about safety. You may be concerned about your kiddo being left out. You may be concerned about both! This espcially may happen around Halloween, which was why the Teal Pumpkin concept was created.
A teal pumpkin is a fun way to incorporate non-foods treats into your traditional spooky treats.
So tune into this episode in Pam and I discuss safe trick-or-treat practices for all kiddos plus how a teal pumpkin can easily be added to anyone's traditional halloween treats.
Plus, don't miss our Teal Pumpkin Mini-Guide!
Also…
Are you in need of an allergist in your area? Check out these allergist finder tools from the American Academy of Allergy, Asthma and Immunology and the American College of Allergy, Asthma and Immunology:
AAAAI Allergist Finder: https://allergist.aaaai.org/find/
ACAAI Allergist Finder: https://acaai.org/locate-an-allergist

Have your food allergy questions answered by me, Dr. Alice Hoyt, on the podcast!
Submit your question HERE!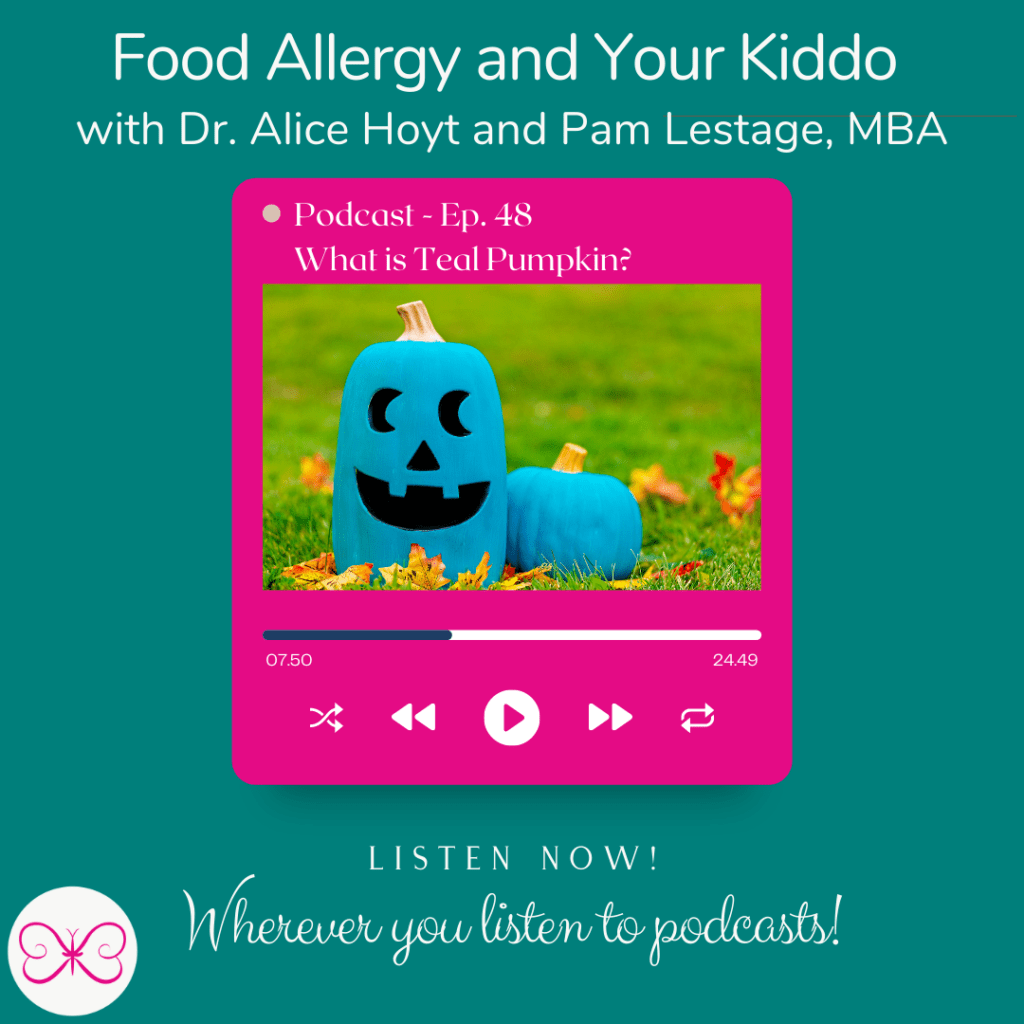 Additional Show Notes
I have talked about a non-profit…
The non-profit is The Teal Schoolhouse, whose primary program is Code Ana. Code Ana equips schools for medical emergencies like anaphylaxis. Our primary program is the Code Ana School Program, which is a comprehensive approach to school-focused medical preparedness. This program guides schools through the process of creating a medical emergency response plan. This is one of the most important components of a school's food allergy policy!
A medical emergency response plan is important for all kiddos and for adults at any school! Our primary goal is to share the School Program, and Code Ana's Online Epinephrine Training Program helps support that goal. Through this program, you will educate yourself while you support this important mission! (BTW although Pam and I serve in leadership roles of Code Ana and The Teal Schoolhouse, our time/effort/work is completely voluntary). Does your kiddo's school have Code Ana?