Food allergy management only begins with the correct diagnosis.
Have you ever wondered how your allergist approaches his/her allergy practice or if there are allergists who focus on food allergy? 
Dr. Hoyt has launched her new practice, the Hoyt Institute of Food Allergy at the Hoyt Institutes of Allergy, and she's excited to share the story of its development!
Go behind-the-scenes as Pam interviews Dr. Hoyt about her new food allergy practice.
In this episode, Pam interviews Dr. Hoyt about how and why she decided to open her own food allergy practice and why she believes that integrated, comprehensive care navigation and mental health support are critical components of her practice.
Also…
Are you in need of an allergist in your area? Check out these allergist finder tools from the American Academy of Allergy, Asthma and Immunology and the American College of Allergy, Asthma and Immunology:
AAAAI Allergist Finder: https://allergist.aaaai.org/find/
ACAAI Allergist Finder: https://acaai.org/locate-an-allergist

Have your food allergy questions answered by Pam and Dr. Alice Hoyt on the podcast!
Submit your question HERE!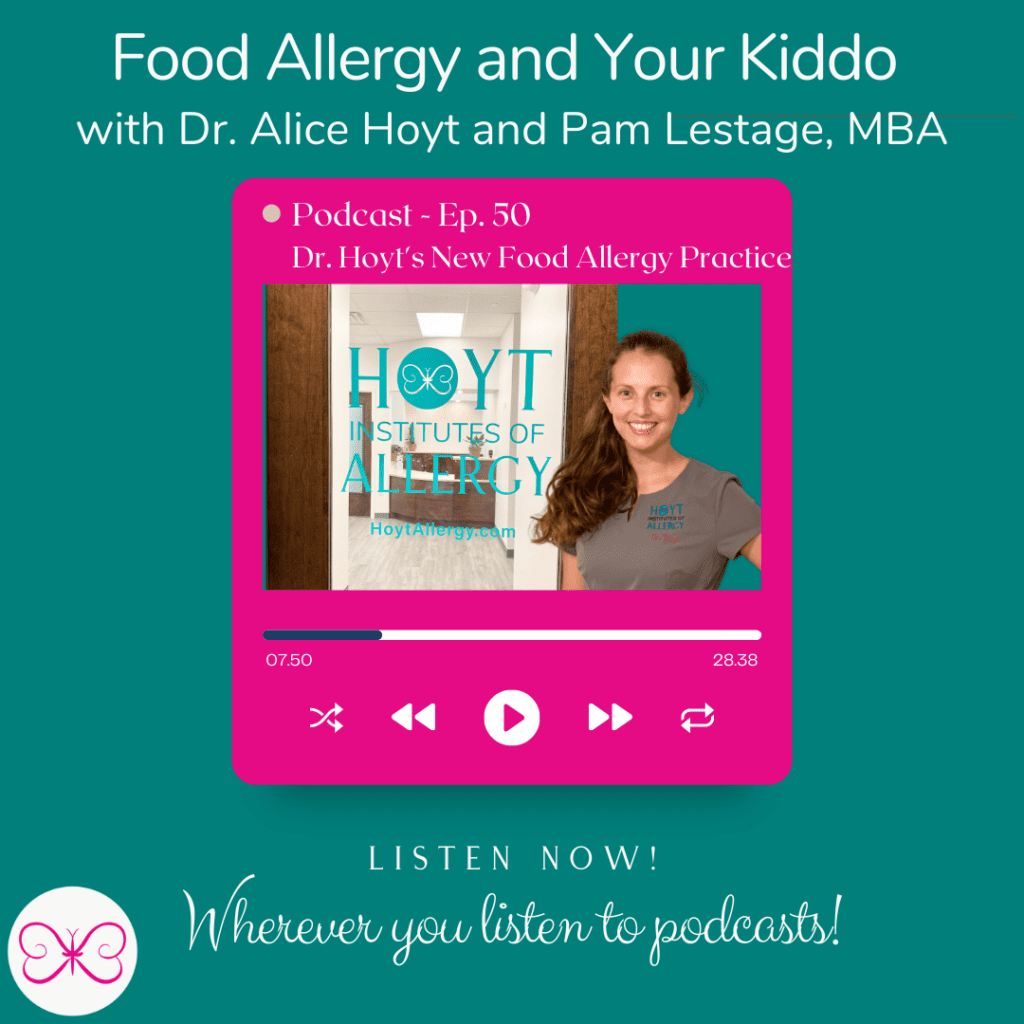 A note from Dr. Hoyt
I have talked about a non-profit…
The non-profit is The Teal Schoolhouse, whose primary program is Code Ana. Code Ana equips schools for medical emergencies like anaphylaxis. Our primary program is the Code Ana School Program, which is a comprehensive approach to school-focused medical preparedness. This program guides schools through the process of creating a medical emergency response plan. This is one of the most important components of a school's food allergy policy!
A medical emergency response plan is important for all kiddos and for adults at any school! Our primary goal is to share the School Program, and Code Ana's Online Epinephrine Training Program helps support that goal. Through this program, you will educate yourself while you support this important mission! (BTW although Pam and I serve in leadership roles of Code Ana and The Teal Schoolhouse, our time/effort/work is completely voluntary). Does your kiddo's school have Code Ana?