As we look forward to 2023, let's look back at the most popular episodes of the Food Allergy and Your Kiddo Podcast of 2022. From oral immunotherapy (OIT) to food protein-induced enterocolitis syndrome (FPIES) to going inside the mind of a food allergist, we covered a lot of ground in 2022. Let's review the episodes that were our top three most popular in 2022. Is your favorite episode on this list of three top food allergy podcast episodes?
#3 All About Oral Immunotherapy with Dr. Hugh Windom
We were fortunate to have Dr. Hugh Windom, board-certified allergist and OIT specialist, on the podcast for this episode. Unfortunately, the sound quality was lacking; however, we re-recorded and published the episode "Dr. Hoyt talks all things Oral Immunotherapy (OIT) and Sublingual Immunotherapy (SLIT) with Dr. Hugh Windom," which has also been extremely popular. (It likely didn't make the Top 3 list simply because we recorded it recently but, with time, will continue to grow to be a very popular episode).
If you are wondering what really is OIT and whether is may be a good choice for your kiddo, these are the episodes for you to hear and hear again.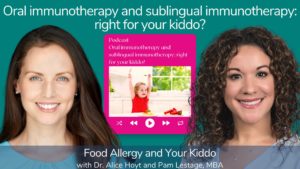 #2 Inside the Mind of a Food Allergist: Classifying Adverse Reactions to Foods
I was pretty surprised this episode ranked highly because, well, it's an episode in which I literally go through different types of food allergies. There really isn't any fun banter (because I'm not interviewing anyone or sharing the microphone with my amazing co-host Pam). This episode, I thought, was somewhat dry; however, numbers don't lie – this ranked very high. I guess I really shouldn't be surprised because the whole reason I do the podcast is to provide evidence-based information in a family-friendly way. I do that because that's the need I see in my practice and online. So if you are looking for a great overview of all the different ways to be allergic to foods and in an episode that is pleasant and entertaining, then you're going to love this.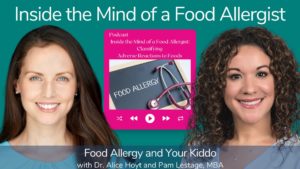 #1 FPIES with Dr. Anna Nowak-Wegrzyn
Another top-ranking episode in which I pick the brain of a colleague, and this one was a home run. Dr. Anna Nowak-Wegrzyn is THE world expert on FPIES. Having heard her speak at national allergy meetings, I know she was a great presenter. What I didn't know about her was what a lovely person she is. And don't you just love when someone is nice and brilliant? Dr. Nowak-Wegrzyn answered a ton of questions about FPIES in this fantastic episode. Even if you don't have a particular reason to learn about FPIES, go ahead ahead and listen to this episode. It's number one for a reason!
That's our top food allergy podcast episodes!
So that's it! Our top three most popular food allergy podcast episodes of 2022. Did your favorites make the list? And do you have show suggestions for 2023? Sign up for our email list and reply with what you want to know is 2023!
Thanks for reading this post "Top 3 Food Allergy Podcast Episodes from Dr. Alice Hoyt in 2022 ." Do you have any questions about food allergies? Sign up for our newsletter where you can submit your questions and stay up-to-date on all things food allergy and YOUR kiddo!
---
Are you in need of an allergist in your area? Check out these allergist finder tools:
AAAAI Allergist Finder: https://allergist.aaaai.org/find/
ACAAI Allergist Finder: https://acaai.org/locate-an-allergist
OIT Allergist Finder: https://acaai.org/locate-an-allergist
---
Do you have food allergy questions? Have them answered by Dr. Alice Hoyt, Pam, and guests on the podcast!
Submit your questions HERE!
---
A note from Dr. Hoyt
I have talked about a non-profit…
Pam and I volunteer with the non-profit The Teal Schoolhouse. Its primary program is Code Ana. Code Ana equips schools for medical emergencies like anaphylaxis.
Code Ana's Online Epinephrine Training Program helps support that goal. Through this program, you will educate yourself while you support this important mission!
A medical emergency response plan is important for everyone at any school. Code Ana's program Med-E Ready is a comprehensive approach to school-focused medical preparedness. This program guides schools through the process of creating a medical emergency response plan. A response team is also developed! This is one of the most important components of a school's food allergy policy!
Does your kiddo's school have Code Ana?
---
You've just read our post "Top 3 Food Allergy Podcast Episodes from Dr. Alice Hoyt in 2022." Remember, Dr. Hoyt is an allergist, but she isn't your allergist, so talk with your allergist about what you've just learned!